NEW Boost Your Tangbuds
24th October 2022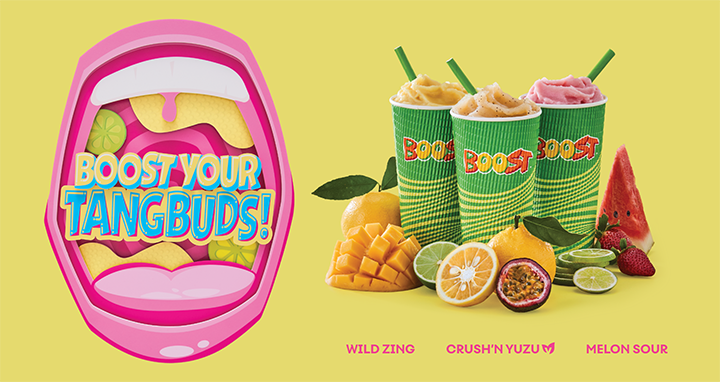 Yeah yeah, we know you're wondering what Tangbuds are.
They're the tangy burst at the top of your mouth of tartness and sweetness delectably washing through the palate. Duh.

At Boost, we have curated three new Citrus blends and they're here and ready to take you and your palate on a ferocious flavour ride.
Crush'n Yuzu

– Yuzu juice, passionfruit, tropical juice, sorbet & ice
Melon Sour – Freshly squeezed watermelon, lime juice, strawberries, strawberry yoghurt, sorbet & ice
Wild Zing – Mango, lime juice, yuzu juice, tropical juice, mango yoghurt, sorbet & ice
We know you're already drooling. So what are you waiting for?
Treat Your Tangbuds today! 
Terms and Conditions: Available at participating Boost stores for a limited time. Check out boostjuice.com.au for full ingredients, allergens and nutritional information.
Suitable for vegans. Although products marked with this symbol

are made using plant-based ingredients, there may be traces of animal products due to potential cross-contamination in store or during the external manufacturing process of the ingredients used in such products.

Popular Posts