Catch Christmas
25th November 2019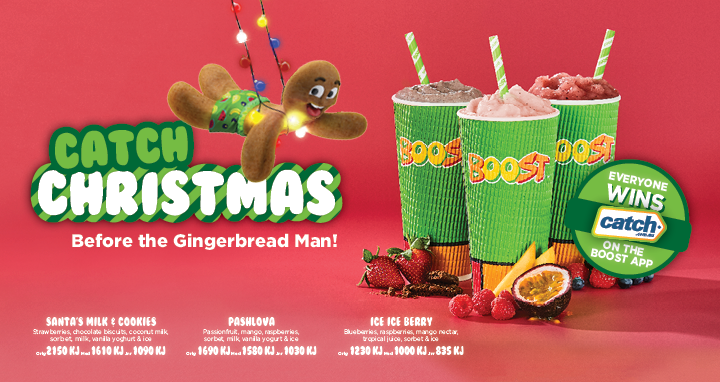 We're so ready to deck the halls at Boost! Start the festive season right and indulge your taste buds with our 3 NEW delicious festive drinks!
Use the Boost app to get sipping and slurping on our delicious NEW Christmas Boosts, and to claim Catch.com.au vouchers! Unlock your share of the whopping $6 million Catch shopping spree!
Don't miss out. If you haven't downloaded the Boost app already, follow the links below.
Download Boost App
Catch Christmas Drink Range
Santa's Milk & Cookies – Strawberries, chocolate biscuits, coconut milk, sorbet, milk, vanilla yoghurt & ice
Pashlova – Passionfruit, mango, raspberries, sorbet, milk, vanilla yoghurt & ice
Ice Ice Berry – Blueberries, raspberries, mango nectar, tropical juice, sorbet & ice
What are you waiting for? Try one or try them all! Head into Boost today and say hi.
Popular Posts