NEW Feel The Flavour!
12th August 2022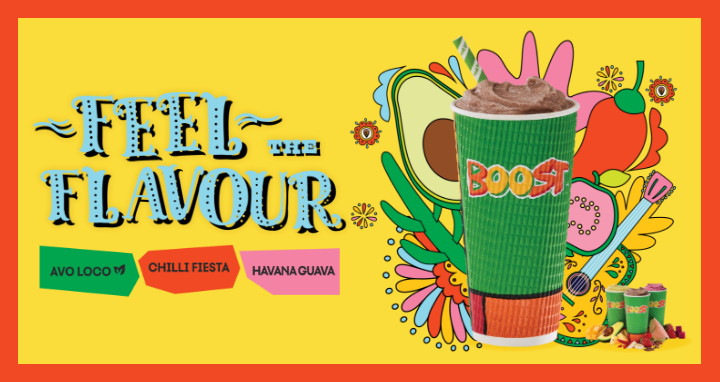 Take your taste buds on a journey to Havana nights and fairy lights.
'Feel the Flavour' with three new drinks at Boost!
Chilli Fiesta brings the heat – Choc chilli powder, strawberries, banana, low fat milk, vanilla yoghurt, sorbet & ice
Avo Loco

brings the smoothness – Avocado, mango, pineapple, mango nectar, tropical juice, frozen coconut cream & ice
And Havana Guava brings the curiosity – Guava nectar, pink dragon fruit, strawberries, tropical juice, strawberry yoghurt & ice
One sip will leave you saying dios mio!
So go try one, try two or… por que no los tres?
Head to your local Boost to 'Feel the Flavour' today!
And why not treat your earbuds alongside your taste buds and explore curated playlists inspired by each of our new drinks?
🎶 Click here to listen 
Terms and Conditions: Available at participating Boost stores for a limited time. Check out boostjuice.com.au for full ingredients, allergens and nutritional information.
Suitable for vegans. Although products marked with this symbol

are made using plant-based ingredients, there may be traces of animal products due to potential cross-contamination in store or during the external manufacturing process of the ingredients used in such products.

Popular Posts