NEW Go Easy, Melon Squeezy
03rd January 2023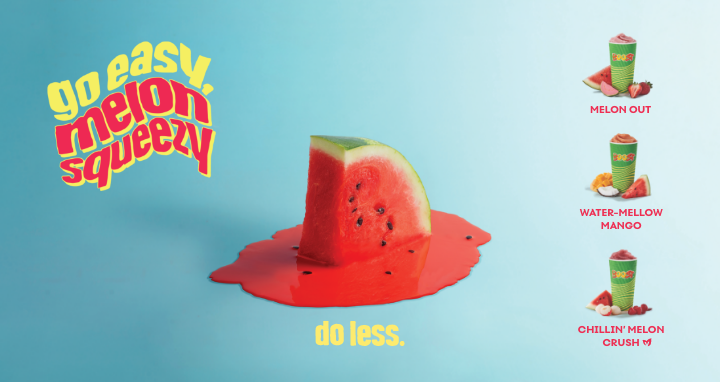 When the post-Christmas slump hits and you want to do less. 
When it's 30-something degrees out and you want to do heaps less. 
When you want to do the absolute bare minimum. 
Be like Watermelon this January. Refreshing, juicy, satisfying without even trying.  
Sit back and sip on our three new watermelon drinks:
Melon Out – Freshly juiced watermelon, guava nectar, strawberries, strawberry yoghurt, sorbet & ice
Water-Mellow Mango – Freshly juiced watermelon, mango, mango yoghurt, frozen coconut cream & ice
Chillin' Melon Crush (Vegan) – Freshly juiced watermelon, tropical juice, lychees, raspberries, sorbet & ice
Do Less. Drink Boost.
Terms and Conditions: Available at participating Boost stores for a limited time. Check out boostjuice.com.au for full ingredients, allergens and nutritional information.
Suitable for vegans. Although products marked 'Vegan' are made using plant-based ingredients, there may be traces of animal products due to potential cross-contamination in store or during the external manufacturing process of the ingredients used in such products.

Popular Posts