NEW Hundy Per Summer Drinks
28th November 2022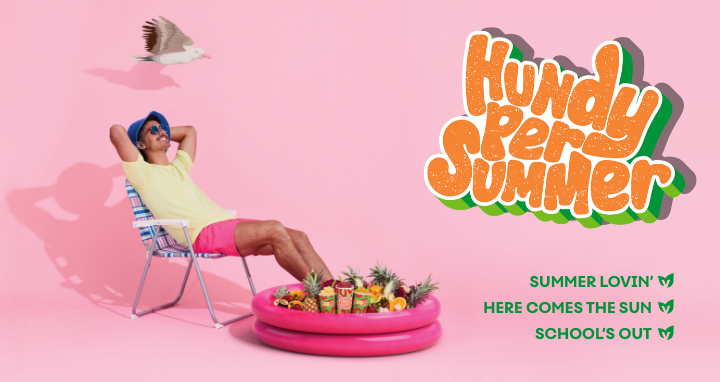 Summer is: 23% snoozed alarms, 14% pushing curfew, 48% a proper pash, 15% sand. Everywhere.
But most importantly, summer is Hundy Per Boost!
Take your days from zero to a Hundy with 3 new drinks that are fit for a scorcher.
Here Comes The Sun

– Freshly juiced pineapple, freshly squeezed orange, passionfruit, pineapple, sorbet & ice
School's Out

– Strawberries, pink dragon fruit, basil, raspberries, freshly squeezed apple, sorbet & ice
Summer Lovin'

– Mango, lychees, green tea powder, mango nectar, sorbet & ice
What more could ya want? Well how about we sweeten the deal with two NEW protein balls. Passionfruit & Choc Raspberry Ripe, available for a limited time only!
Go on… would be rude not to.
Chuck your thongs on and kickstart your Hundy Per Summer at Boost today!
Terms and Conditions: Available at participating Boost stores for a limited time. Check out boostjuice.com.au for full ingredients, allergens and nutritional information.
Suitable for vegans. Although products marked with this symbol

are made using plant-based ingredients, there may be traces of animal products due to potential cross-contamination in store or during the external manufacturing process of the ingredients used in such products.

Popular Posts