NEW Nothing But Passion
03rd January 2022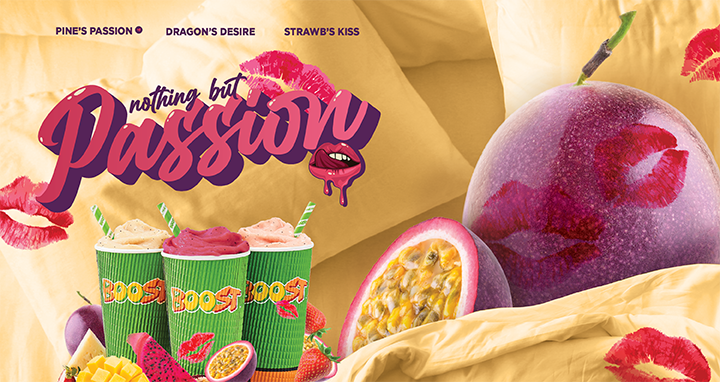 If you're in need of some Passion in your life, Boost is here to give you not one, not two but three perfect matches!
Our newest campaign 'Nothing but Passion' is here and ready to take you on a juicy date.
One sip is all it takes to fall in love with our three new drinks.
Introducing Strawbs Kiss, Dragon's Desire and Pine's Passion that will have you finding your perfect blend.
Dragon's Desire – Passionfruit, mango nectar, mango, pink dragon fruit, vanilla yoghurt, sorbet & ice
Strawb's Kiss – Passionfruit, strawberries, mango nectar, tropical juice, strawberry yoghurt, sorbet & ice
Pine's Passion

 – Passionfruit, mango, pineapple, tropical juice, frozen coconut cream & ice
Pucker up for a good pash and head down to your local Boost to try them today!
T&C's/Disclaimer: Available at participating Boost stores for a limited time. Check out boostjuice.com.au for full ingredients, allergens and nutritional information.
 Although products marked with this symbol

are made using plant-based ingredients, there may be traces of animal products present due to potential cross contamination in store or during the external manufacturing process of the ingredients used in such products.
Popular Posts