Saucy BBQ – The Backyard Aussie BBQ is now at Boost!
31st January 2021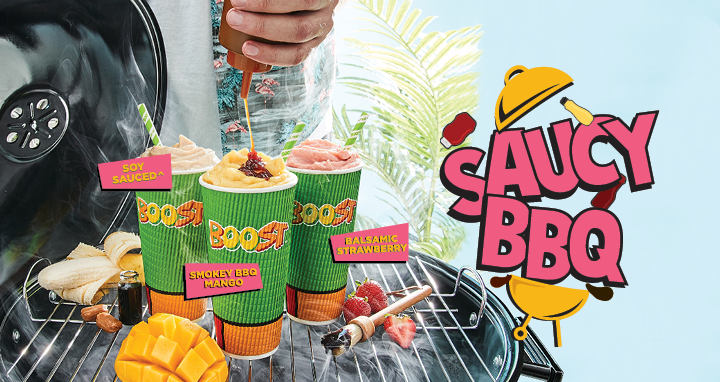 It's BBQ season at Boost Juice! Three deliciously saucy smoothies to bring those Summer BBQ vibes straight to your straw!
Join us as we sizzle and grill our way through these summer days and grab one of the NEW Saucy BBQ smoothies today
Saucy BBQ Smoothie Range
SMOKEY MANGO BBQ – What's better than a ripe, juicy mango? One that's been flame grilled to smokey perfection. This seriously good smoothie knocks you straight in the face like Dad's infamous charred lamb chops… succulent and sure to keep you coming back for more!
BALSAMIC STRAWBERRY – Sweet and sour sippers, rejoice! Boost's Balsamic Strawberry smoothie is a saucy game changer! It's like a fancy dressed BBQ salad that screams, 'I've got my life together', but in smoothie form.
SOY SAUCED – Sucker for a sweet and salty combo? Reach for Boost Juice's ultimate soy sauce super blend! Made with REAL soy sauce (yes, the type that works well on those delectable little barbecue drumsticks), Boost has added a unique twist to the traditional salted caramel mix – a must try this summer. 
There's only one way to find out how crazy and delicious these drinks really are! So what are you waiting for? Come and join us at the BBQ and try one, or all three, today!
Popular Posts