NEW Hundy Per Summer
28th November 2022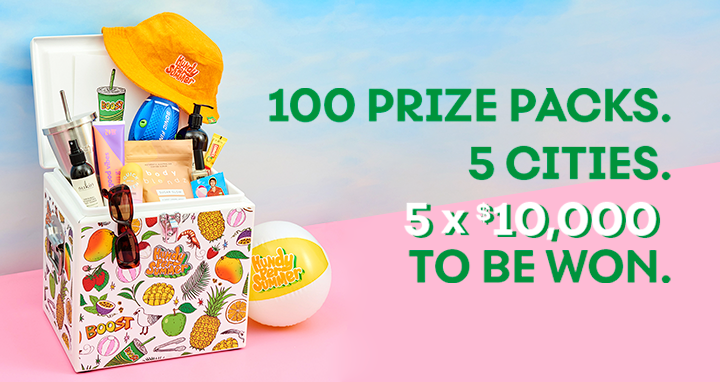 To celebrate a Hundy Per (100%) Summer, we are dropping 100 prize packs across Australia!
From Wednesday, 7th December through to Sunday, 11th December, 100 Boost prize packs will be dropped around the country; 20 in each state (SA, WA, QLD, NSW and VIC).
Hidden in plain sight, these prize packs will be packed to the brim with summer essentials and Boost merch. And better yet, each state will see one lucky winner score a whopping $10,000 cash prize hidden in theirs!
Each pack will goodies from Boost, as well as an array of iconic brands including The Quick Flick, Carmex lip balms, AIRE sunnies, Sukin skin products, Body Blendz body scrubs, Aerobie sonic fin footballs, and more.
Will you be a lucky winner?
Follow along on Boost socials for location clues and daily code words, unique to each state.
To sweeten the taste of Summer in true Boost fashion, we have three new limited-time flavours in stores until 2nd January. Check them out here
Terms and Conditions: Click link for full T&Cs –Boost Hundy Per Summer Scavenger Hunt
Popular Posts